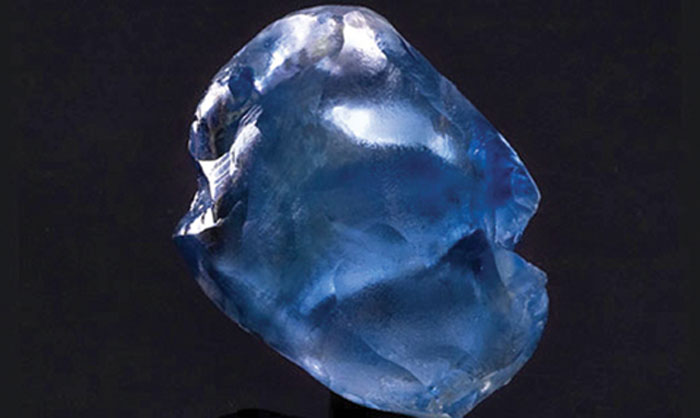 An exceptional 29.6-carat blue diamond has been discovered at the Cullinan mine in South Africa.
The stone is an outstanding vivid blue with extraordinary saturation, tone and clarity, and has the potential to yield a polished stone of great value and importance, said Petra Diamonds Limited, which owns the Cullinan mine, in a statement here Tuesday.
Petra Diamonds said the diamond is one of the most exceptional stones recovered at Cullinan during Petra's operation of the mine. Blue diamonds are among the rarest and most highly coveted of all diamonds.
The Cullinan mine, located at the foothills of the Magaliesberg mountain range, 37 kilometres northeast of Pretoria, is one of the world's most celebrated diamond mines. It is also the most important source of blue diamonds in the world.
Cullinan earned its place in history with the discovery of the Cullinan Diamond in 1905, the largest rough gem diamond ever found at 3.106 carats.
The mine is renowned as a source of large diamonds and frequently yields diamonds larger than 10 carats. Furthermore, it has produced more than 750 stones weighing more than 100 carats, 130 stones weighing more than 200 carats, and around a quarter of all diamonds weighing more than 400 carats.
Cullinan is also renowned as the world's most important source of blue diamonds, providing the collection of 11 rare blues displayed in 2000 at London's Millennium Dome alongside the Millennium Star and which included the fancy vivid blue "Heart of Eternity" (27 carats polished).
More recently, the Cullinan Heritage (507 carats rough) was recovered by Petra and sold for 35.3 million US dollars in February 2010, being the highest price on record for a rough diamond.
Petra Diamonds did not say what he was going to do with the newly discovered blue stone, which is probably valued at more than 10 million USD. – NNN-Xinhua- SAnews.gov.za