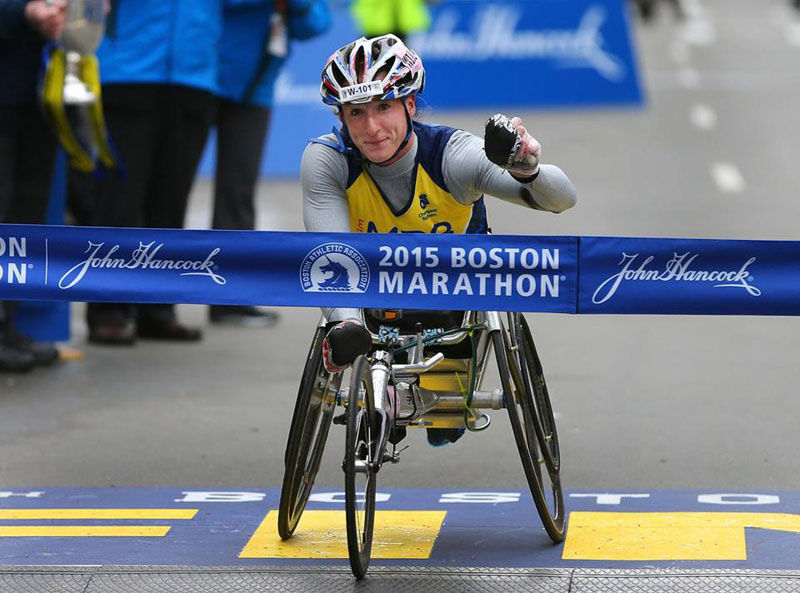 On the 40th Anniversary of Bob Hall's pioneering race to become the first athlete to officially complete the Boston Marathon in a wheelchair, 50 push-rim wheelchair participants completed the 119th Boston Marathon. Top finishers divided a prize purse of $84,500, provided by principal sponsor John Hancock Financial Services.
A short rain shower wet the roads before the start, but the fast finishers avoided later heavy rainfall in Boston. A pesky headwind slowed times, but didn't impede competition. Switzerland's Marcel Hug found a formula that worked to defeat 10-time champion Ernst van Dyk and the rest of the field, taking first in 1:29:53. American Tatyana McFadden won her third straight Boston in 1:52:54.
Hug crafted a commanding win this year after finishing fourth in 2012 and 2013. "It was most important for me to have a good downhill," said the 29-year-old. "I know that Ernst is strong in downhill so I tried to be really strong today and attacking."
Taking the lead by 10 miles, Hug continued to pull away from a field that included four past champions, including van Dyk (RSA), Masazumi Soejima (JPN), Hiroyuki Yamamoto (JPN), and course record holder Josh Cassidy (CAN). Before the Newton Hills, Hug led by more than a minute. The lead would ultimately grow to seven minutes and 20 seconds by the finish. "I feel great," said the champion. "I am happy. To win here is really special and I am proud to win this historic race."
Hug's chasers worked together to try to catch him, but it was each man for himself in the sprint down Boylston Street. Defending champion van Dyk took second in 1:36:27, with Soejima third in 1:36:28, and Kota Hokinoue (JPN) fourth in 1:36:28. "Masazumi, Kota, and I tried to chase Marcel and close the gap," said van Dyk. "But there was a point when we knew that wasn't going to happen. At the end, Kota made the first move and I had to counter that. I was hurting a lot over those last few miles, but I knew I couldn't slow down, because if I did, they'd catch me."
Tomasz Hamerlak of Poland and American Joshua George took fifth and sixth, respectively, in another tight finish in 1:38:14 and 1:38:15. Yamamoto finished seventh in 1:39:36, with James Senbetta, Jordi Madera Jimenez, and Laurens Molina cracking the top ten in 1:40:56, 1:41:40, and 1:42:42.
Tatyana McFadden, who has dominated Abbott World Marathon Major races for more than two years with wins in 2013 and 2014 at Boston, London, Chicago, and New York, kept her streak alive with another Boston win. Her race this year played out much like her win at Boston last year when she reeled in a fast-starting Wakako Tsuchida. "I knew from the very beginning that I have to go against strong sprinters like Tatyana and Susannah," said Tsuchida, five time Boston champion and course record holder (1:34:06).
To catch Tsuchida, McFadden worked with her University of Illinois teammate Susannah Scaroni, and Amanda McGrory. The defending champion, who compared herself to a grandma on downhills, kept the pace uphill while Scaroni and McGrory took turns on flat stretches. By 15k, McFadden left the others and passed Tsuchida for good. She amassed a minute-and-a-half lead by the 18-mile-mark in the Newton hills. Tsuchida closed the gap but never came within a minute until just before the finish. McFadden crossed the line in 1:52:54 with Tsuchida next in 1:53:48. "It was an absolutely incredible day," said McFadden, who dedicated her race and gave her laurel wreath to the Richard family, who lost 8-year-old Martin in 2013. "The weather cleared up. It wasn't too chilly, but there was definitely a headwind. It was the 40th anniversary, so to be an American up there on the podium, I couldn't have asked for a better day."
Scaroni and McGrory, both from the US, finished together in 1:57:21, with Scaroni third for the second-straight year, and McGrory fourth. 2012 Paralympic Games bronze medalist Sandra Graf, of Switzerland, took fifth in 1:59:18, with Paralympic marathon silver medalist Shelly Woods (GBR) making her Boston debut in sixth (2:05:14).
In addition to winning monetary prizes for top finishes at Boston, wheelchair athletes will be able to compete for an additional prize purse from the Abbott World Marathon Majors (AWMM) starting with the 2016 Boston Marathon. A male and female winner will be determined based on scoring at the Boston, Virgin Money London, Tokyo, BMW Berlin, Bank of America Chicago, and TCS New York City Marathons, and each winning athlete will earn $50,000.
"I think that the sport is definitely growing and for the better," said McFadden. "Now the wheelchair is part of the Abbott World Marathon Majors series it changes everything. It makes it better, stronger, and faster, and it will keep on growing. I'm so honored to come home with another win as part of it."
About the AWMM, veteran competitor van Dyk said, "Basically it means that we're going to have five marathons every year where the standards will be very high and the reward will be a couple of guys who can do this full-time and make a living out of it.
"We all know Boston does a good job. London does a good job. New York does a good job too. I think we've already seen it the last two to three years with the London-Boston challenge. We've seen a huge growth in the field in Boston and in London. Adding Berlin and Tokyo and giving it an ultimate prize will make a lot more guys commit to it."