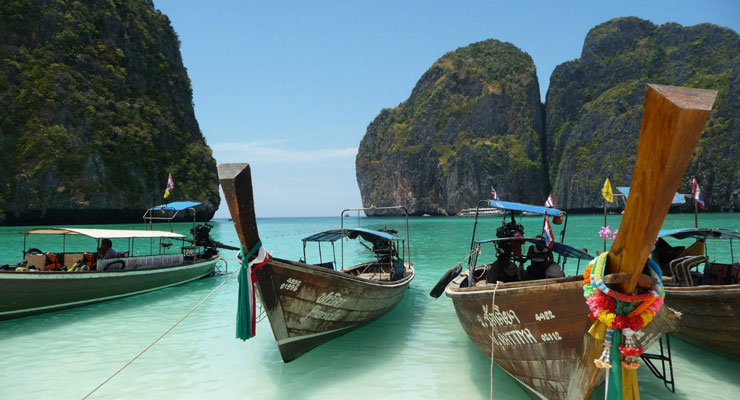 Southeast Asian countries have become magnets for retirees from other parts of the world who want to spend their final years in the comfort of year-round sunny climates, friendly people who treat the elderly well, and inexpensive 'colonial' lifestyles.
Two of them – Malaysia and Thailand – are listed in the top ten in the latest survey of best countries in the world for North Americans to retire to…
Thailand is now home to 45,000 foreigners who live there permanently on retirement visas. They cost little, but have to be renewed annually. To qualify you must be at least 55 years old, agree to do no work, and meet a financial requirement.
You must either prove that you have a monthly income of 65,000 baht (that's just over $2,000), or have at least 800,000 ($25,000) in a local bank.
Although Thais' fluency in the English language is less than desirable, that has never been a problem for us in the seven years we've lived here. The Thais make up for it with their ever-willing desire to be helpful – greng jai (concern for the contentment of others) being such a dominating force in their social behaviour.
Almost everything required by retirees is inexpensive, sometimes really cheap, compared to Europe, North America, even my own South Africa. Domestic help is abundant, willing and friendly – no more housework now it's become increasingly difficult to do yourself. Medical and dental services are world-class and a remarkable bargain, with consultants fluent in English and often with advanced US/European/Australian qualifications.
Malaysia has become home to 23,000 foreign retirees under its programme designed to attract them. Its visa offer is far better than Thailand's – once granted, it's valid for ten years.
However, financial qualifications are much higher – you have to prove a retirement income of 10,000 ringgit (more than $3,000), and have at least 350,000 ($110,000) in a local bank.
For retirees, life in Malaysia has the same kind of advantages as in Thailand – warm climate, low costs, friendly people, world-class medical services – with the added advantages that English is widely spoken and the local language much easier to learn.
It's topped the list as the most popular "long-stay" destination for Japanese retirees for the past six years.
Philippines was the first Asian country to welcome foreign "Silver" migrants, and now has about 23,000 who have qualified under the nation's Special Resident Retiree visa. Many thousands more qualify for residence under other visas, or have married locals.
Financial requirements for the retiree visa are a pension of at least $1,000 a month, and a cash deposit of $50,000 in a government-designated bank.
The Philippines mainly attracts Asian retirees, from China, South Korea and Taiwan. The country is also a particular favourite of Japanese retirees as it's only a four-hour flight to Japan when they wish to return to visit family or receive medical treatment (which for them is both free and high-quality in Japan).
Bali – a province of Indonesia – has attracted 10,000 foreigners over the past five years who have settled there permanently.
It offers retirement visas for those aged at least 55 who can prove a minimum income of $1,500 a month and rent an apartment costing at least $500 a month. They must also have medical insurance, employ at least one local such as a domestic, and cannot work or own a business.
The attractions are similar to those found in other favoured Southeast Asian long-stay destinations, except for inferior medical services.
As I've said, Liz and I have lived in retirement in Chiangmai, Thailand, since 2006. We call it "the last paradise," our only regret being that we didn't move here earlier!
CopyRight – OnTarget 2014 by Martin Spring